RAF WADDINGTON HERITAGE CENTRE OPEN DAY 30 APRIL 2012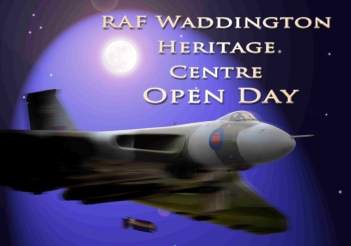 To commemorate the 30th Anniversary of the 'Black Buck Raids', the longest-range air attack in history, the RAF Waddington Station Heritage Centre is holding an Open Day on Monday 30 April 2012. Admission is free and tours can be booked for either 10 am or 2 pm.
RAF Waddington's history spans more than 90 years. The Open Day will provide an opportunity for visitors to learn more about the Stations role during both the Cold War era, when the Stations Vulcan bombers were on standby to respond to any nuclear threat, in addition to the significant part it played in the liberation of the Falkland Islands in 1982 in support of Operation Black Buck.
Our knowledgeable tour guides will show you around the RAF Waddington Heritage Centre which charts the history of the station from when it first opened in 1916 through to the present day.
There will also be a chance to get up close to the Vulcan bomber, XM607, which carried out bombing raids during the first of the Black Buck missions.
For further information and to download an application form please visit our website. Please note we will be unable to process applications received after Friday 20 April 2012.

RAF Waddington history on RAF website
Other aircraft photos at Waddington
aerial photo of RAF Waddington
"spotters' guide" to RAF Waddington
The US Air Forces in Lincolnshire
Waddington page on UK MILITARY SPOTTING
RAF Waddington memories on the Wartime Memories Project
Buy the local map:

1:25 000 (detail)

1:50 000 (area)
Aviation Heritage Lincolnshire
(Tourism)
powered by blueconsultancy