From: Air Historical Branch 5 (RAF)
MINSTRY OF DEFENCE
Room 308,
3-5 Great Scotland Yard,
London SWIA 2HW

Dear Mrs Evans,
Thank you for your letter dated 27 October 1999, requesting information concerning your late father, Sgt Edmund Kenneth Day (189663).
As requested I have consulted surviving casualty records, and where possible I have attempted to answer the questions that you have raised.
On 16 March 1945 your fathers aircraft, a Lancaster Mk I, No. NG.169 which was operating with No 625 Sqn, took from RAF Kelstern to carry out operations over Nuremberg, from which it failed to return to base. In total 231 Lancasters from No 1 Group, plus 46 Lancasters and 16 Mosquitoes of No 8 Group were despatched for this raid, which sadly resulted in the loss of 24 Lancasters,(all from No 1 Group). Most of these losses were due to German Night Fighters found the bomber stream on its way to the target. For your interest I enclose an extract taken from the Bomber Command Night Raid Reports relating to events for 16/17 March 1945.
After the cessation of hostilities the RAF Missing Research and Enquiry Service carried out investigations regarding the fate of the crew. During 1947 it was initially established that the aircraft had crashed 100 metres South of Bastenau. The body of the Pilot, Flying Officer E F Seear, had been found buried at Schillingsfuerst as an unknown, however, he was later was later identified after his grave was exhumed. Information supplied by a priest from Erzberg and other local inhabitants indicated that the aircraft crashed around 21.15 hrs on 16 March 1945 and exploded on impact. Further investigations revealed that the next morning a former policeman from Dombuehl proceeded to the scene of the crash and noted that the aircraft had entered into soft ground. All that was visible was what appeared to be part of a wing, with further wreckage found strewn over a wide area. Human remains that were found, collected and transported to the cemetery and buried at Erzberg.
When an MRES Officer visited the crash site he discovered that / the wreckage was still in a crater and covered by water. It was believed that the remains of 2 or 3 men had been recovered although this was uncertain. However, in order to establish individual identities exhumations were carried out by the MRES and identity discs belonging to Sgt H Smither (1893583) were located. It proved extremely difficult to obtain correct info as to the disposal of the aircraft but after numerous enquiries it was finally ascertained that the remains of the aircraft were still in the crater, which had partly filled up water. The MRES had the surplus water pumped from the crater and the salvaged the wreckage to establish whether any human remains could be found. As nothing was discovered it was the opinion of the investigating Officer that the remains that had been collected and buried at Erzberg were in fact, the remains of all the missing crew concerned.
As was standard practice the entire crew were transferred to the Bad Tolz (Durnbach) British Military Cemetery to ensure that the graves could be cared for by the former Imperial War Graves Commission. Flying Officer Seear was laid to rest in Grave No 11, Row J, Plot XI, with the remaining airmen, including Sgt Day laid to rest in a comrades' group of graves numbered 12—15.
Regrettably we are unable to tell you if any of the crews relatives are still alive as such information is not retained amongst our records. However, there are two options which you may wish to pursue. The first is to send correspondence contained in a sealed pre—paid to the RAF Personnel Management Agency requesting that they forward to the Next—of—Kin's last known address. Although I should point out that these addresses could be over fifty four years old and may not produce a response.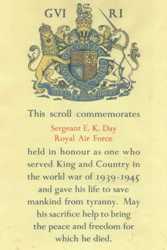 The contact address is as follows:
PMA(CS)lbl (RAF)
Building 248
RAF Innsworth
Gloucester
GL3 1EZ
I hope the information provided proves helpful.

Yours sincerely,

MISS D COFFEY
Air Historical Branch 5 (RAF)