61 Sqn lost its first aircrew during an attempted landing at RAF Digby on 8 Mar 1940 when Handley Page Hampden Mk1 bomber, number L4111, piloted by Fg Off (P) Derek Clinkard, crashed in a nearby field. The crew included Sgt (P) Carl Hobbs. The full account of the crew and the event are on a separate page.
I was contacted in 2013 by a son of a close friend of Sgt Carl Hobbs, the later Flt Lt Colin Gane Richards, born 22 Sep 1916. Carl had been Colin's best buddy. They they learnt to fly together, as teenagers. Before the war they had spent a holiday together at St Hellier Jersey in 1936 or 37.
Colin and Carl were both at 501 (City of Bristol) Squadron at RAF Filton, Bristol, from their joining the RAFVR in 1937. He and Carl took their pilot's licence at the same time and were both from Clifton in Bristol. Their reports and CO's recommendation led to them going on to No 2 RAF Elementary and Reserve Flying Training School (ERFTS) at Filton and where Colin gained his wings in 1938, also operating at Whitchurch and St Athan.
Sgt CG Richards RAF-VR went on from 2 ERFTS to 1 Air Armament School at RAF Manby and from there to No 1 Sqn 31 OTU at Debert Nova Scotia under the Empire Training School. He was at Manby for 12 months from Nov 1939 to Nov 1940 during which he amassed 25 pages of flights in his logbook on a variety of aircraft, including of course the detail of first and second pilots, route, duration and task. He remained in Canada as a navigation instructor and on pilot conversion on Hudsons from Jan 1941 to Jan 1944, gaining his commission in May 1943.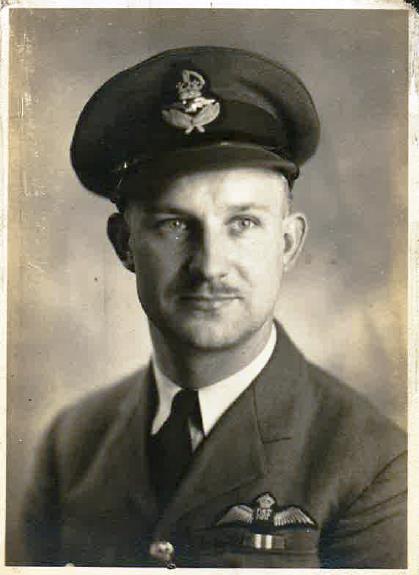 Andy, Colin's son, recalls stories his father told about No 1 AAS Manby, going out on the motorbikes at night to Mablethorpe and around the area. He also recovered fuel from a crumpled pre-war bomber at the end of the runway to fuel these visits, and it took 2 to do it; one with the can and one in the cockpit to open the cocks. The recovered fuel was stored it in petrol cans under the bed, in his billet. They used this to run their bikes for about 8 months; it was low octane as it had been a low altitude aircraft, and they never got sussed or caught. Well, only once at night, by a guard post on a long Lincolnshire road with dykes either side when in the black of night 3 of them were rattling along and well drunk, and intercepted by Coldstream guards.
In Colin's archive there was a letter from a friend stationed at the Sgts' Mess RAF Hemswell dated 11 Mar 40 to let him know that Carl was killed as pilot in the crash near Digby. It was probably the most significant and meaningful loss to him in his wartime career and on return to the UK.
He lived to a grand age of 88, retaining his multi Licence until he retired in 1980, passing away in Feb 2005.
With thanks to Andy Richards who retains the copyright over the photographs and correspondence reproduced in this article. (May 2013).