Home
RAF Stations & Bases
Full list of locations
Squadrons and Units
A brief history
Aircraft types
Photographs
Memorials
Crashes
Sqn & Stn Associations
Museums
Maps
Oral History
Books
Search site
Links
Sitemap
Abbreviations
People Finder
Family history & research
About the site
FAQs
Contact us
Copyright
Updates
#RAFLincolnshire

> RAF Bases

Interactive map
Full list of locations
Alma Park
Anwick
Bardney
Barkston Heath
Belton Park
Binbrook
Blankney Hall
Blyton
Boston Wyberton Fen
Bottesford
Bracebridge Heath
Braceby
Buckminster
Bucknall
Caistor
Cockthorne
Coleby Grange
Coningsby
Cranwell
Cuxwold
Digby
Donna Nook
Dunholme Lodge
East Halton
East Kirkby
Elsham Wolds
Faldingworth
Fiskerton
Folkingham
Freiston
Fulbeck
Gosberton
Goxhill
Grantham
Greenland Top
Grimsby
Grimsthorpe Park
Harlaxton
Hemswell
Hibaldstow
Holbeach
Humberston
Immingham
Ingham
Ingoldmels
Kelstern
Killingholme
Kirmington
Kirton in Lindsey
Langtoft
Leadenham
Lincoln West Common
Ludford Magna
Manby
Market Deeping
Market Stainton
Mere
Metheringham
Moorby
Morton Hall
New Holland
Nocton Hall
Normanby
North Coates
North Killingholme
North Witham
Norton Disney
Orby
Rauceby
Saltby
Sandtoft
Scampton
Skegness
Skellingthorpe
Skendleby
South Carlton
South Elkington
South Witham
Spilsby
Spitalgate
Stenigot
Strubby
Sturgate
Sutton Bridge
Swinderby
Swinstead
Theddlethorpe
Tydd St Mary
Waddington
Wainfleet
Waltham (Grimsby)
Wellingore
Wickenby
Wigsley
Winterton
Woodhall Spa
Updated 23 Sep 10
J A Campbell, a mid-upper gunner who later served in 463 Sqn RAAF and 61 Sqn RAF has contributed his memories of 61 Sqn at RAF Skellingthorpe to the site:
The weather in the first part of November was terrible, and flying was almost impossible. As a matter of fact, we didn't fly again until the sixteenth. This was a flight none of us wanted to take. Our 61 Squadron was being moved from Syerston to a new dispersed base at Skellingthorpe, about six miles west of Lincoln, and we were going to share this base with 50 Squadron, code letters "VN". We regretfully packed our gear and piled it into a brand new aircraft — the replacement for QR-"V". She didn't even have the new letters painted on her yet.
Skellingthorpe was a mess of mud and Nissen huts, and spread all over the place. It was about ¾ of a mile to the mess from our quarters, and the mess was small and crowded. Ablutions were also a couple of hundred yards from quarters, and water was sometimes hot, but more often cold. Shaving in cold water is a bit of a trial. Our Nissen hut was heated by a little coke-burning stove. There were about twenty of us in the hut, and we decided when we got a good fire going we'd never let it out, but of course, by about 3 a.m. it had expired, and the metal building was completely chilled. After all, the stove was not much bigger than a bulge in the smoke pipe. Mind you, I know this sounds like a lot of complaining, but the change from Syerston was so vast that we felt a bit depressed. Actually there were far worse places, and when we considered what an army in action had to content with, we had heavenly conditions.
The letters "QR-V" were soon painted on our new aircraft, and the first real trip we took from Skellingthorpe was a "dinghy search" on the North Sea, and down toward the Friesian Islands. An American aircraft had been forced down at sea, and the last position the disabled ship had sent was the area we were going to search. Visibility was not good. We had to fly about 500 feet above the rough, grey water, and the two 61 Squadron aircraft were to make a systematic grid search, flying within easy sight of each other. We conducted the search from about 3 p.m. until 8 p.m., with no results. All we saw was a group of British fishing travelers riding up and down on the 15-foot waves. These ships were within easy reach of enemy aircraft, but they just went on about their fishing and they did daily. Evening faded into darkness and we kept up the search hoping perhaps to see a light signal. We wondered about the people in the dinghy, and if they were still afloat. We saw nothing, and returned to base.
On the afternoon of November 22nd we were briefed for an attack on Berlin. Conditions for this raid were going to be different. Intelligence had reported a thick and deep cloud cover all over the Continent — so heavy as to cause severe icing conditions at lower levels, and enough to curtail the effectiveness of most of the enemy night-fighters. A massive effort would be mounted on a fairly straight in-and-out route. All three types of heavies would be used, Stirlings, Halifaxes and Lancasters for a total of almost 900 aircraft. This was the first Berlin attack for the rest of my crew, and they were anxious to get it over with. Briefing information had discounted fighter activity because of bad ground conditions on their bases, but that, of course, would not affect their flak defenses. We were informed that Berlin's main ground defenses were 400 heavy guns, 400 light guns, and about 200 searchlights. It sounded like a milk run with everyone taking their chances running through the flak barrage. If the Force was well concentrated the defenses would have to fire randomly at the stream, as their radar readings would be snowed under. We knew that there would be nothing to see at the target except reflecting searchlights and fires on the cloud. Sure enough, all the predictions were true for a change, and no one in either of our two squadrons saw a fighter, although our search was just as intense as always.
Our assigned heights were from nineteen to twenty-one thousand feet.
The Pathfinders laid cloud markers, and the bomb-loads were sent down through a heavy flak barrage. We saw a tremendous explosion over the target which must have been a direct flak-hit on a fully-loaded bomber. The sparse air stank with the acrid smell of shell bursts as we bumped through the slipstream and flak roughened target area. Fires shone brilliantly on the cloud-base, and made and almost daylight-like brightness. The trip back was uneventful, with our squadrons suffering no losses. Total losses due to the unusual conditions were twelve aircraft of all types.
This was the last attack on Germany where the Stirling squadrons were used. The losses among their brave numbers had become to heavy to sustain, chiefly because of their inability to attain higher altitudes. Obviously, from this point, altitude made for slightly safer operating conditions — but some people were carried away by the idea. Often as we flew in toward the enemy coast from the North Sea on an in-depth attack, we'd see large flashes in the sea. These, we were informed by intelligence, were 4,000-pounders being jettisoned by crews who had decided that they wanted more altitude. One can understand this being done on a rare occasion as a necessity, but not as a habit. When I was instructing down at an OTU after the completion of my tour, I was told by one of our staff pilots who had done his tour on Halifaxes: "If I can't get the altitude I want — Fuck it — out go my wing bombs". The Halifax usually carried two 500-pounders in each of two small wing-bomb bays. Our next Berlin trip would prove to be a completely different experience.
If we could just pause here in the sequence of events, I'd like to relate an experience that took place nearly six-weeks previously. On the 3rd of September the Italian Government had signed an armistice with the Allied Powers. Everyone sort of reckoned that this would mean the collapse of the defenses of Italy, and that the Allied armies would make a fairly rapid advance up the "boot" of Italy as the German forces withdrew. Of course, this didn't happen, and the Germans sent in large reinforcement units, and were determined to hold onto Italy, and to keep large Allied forces tied up at all costs. At this time we were treated to a bit of a personal viewpoint of a typical RAF senior officer. On the morning of September 5th, the Syerston Station Commander, Group Captain Evans-Evans, called a special station parade. All personnel were to be involved, and we all wondered what it could be for. After much shuffling around the parade was finally formed up on the square, and Group Captain Evans-Evans inspected us, and made a few rude remarks about the length of some of our haircuts. Then he mounted the dais he'd placed before the square. He proceeded to make a speech congratulating us on our good work and stating that "this was the first time in history that a country had been defeated by bombing alone" — which we all knew was bullshit. The Italians were trying to salvage what was left of a bad bet. They had backed the wrong horse. At this time we wondered what the reaction would have been if Group Captain Evans-Evans had made his speech to units of the British, American and Canadia armies who were involved in the Italian campaign.
On the 26th of November we were again briefed for a Berlin attack. Rumours were now rampant that Berlin was going to be subjected to an all-out series of attacks by our Main Force. Weather continued typically November, with frost and ground fog at our bases, and cloud over the Continent. The route in was over the North Sea, down into a cloud-covered Europe, and with feints on various German towns by small groups of Mosquito bombers. The total cloud cover over the target led to the unusual bright conditions, and the aircraft concentration was high. As we were preparing for the bomb-drop on a straight and level run, suddenly another Lancaster appeared about 300-feet just above us. I could look up into the bomb bay and could see a load of bombs ready for release. A warning to Alex, and he made a slight alteration of course to starboard, just as I saw the bomb-load start to tumble out the open doors. The bombs slid by our port side, and I could see the yellow lettering on the side of the green 4,000-pounder, surrounded by hundreds of 4-pound incendiaries. I could swear that some of the 4-pounders went between our port wing and tail-plane, but in reality they were probably about thirty feet off our port wingtip. This put a crimp in Dennis's bombing run, but he still got a fair group of indicators in his photoflash picture. The route out was quite long over Germany, and the night fighter bases were certainly not fogged-in. As we left the target brightness, I saw the unmistakable silhouette, a tail fin of a Junkers 88 as he broke away to starboard. He was probably stalking another silhouetted Lancaster. A moment later a Me110 flashed across, above us, a scant 100 feet away. It moved from port beam to starboard beam in an instant, before I could rotate the Turret and bring guns to bear.
The homeward leg took the stream between Hamburg and Bremen, and there were some cloud layers reaching to about 3,000 feet below us. I observed an attack on a Lancaster about 500 feet below us on the port beam. The streams of bright green trace from the German fighter caused a shower of sparks to erupt from the bomber, which continued on course, but started to veer starboard. As it did so, fire broke out and started to stream backward as the Lancaster passed beneath us. It disappeared into the cloud layer, and the enlarging fire flickered and shone from beneath. A few minutes later a large flash signaled the impact. The rest of the route took us over the Netherlands, toward landfall on the coast of East Anglia.
As we crossed the English coast, Doug received a message from our base, ordering a diversion as the aerodrome was fogged in. Henry obtained a Gee fix, and gave Alex a course for Catfoss, an OTU for Bristol Beaufighters in Yorkshire. Our aircraft were soon in the Catfoss circuit, and calling for landing turn. We heard Wally Einerson's Canadian accent asking for priority because he had lost about seven feet off his starboard wing in a mid-air collision. We all got down without incident, and Einerson's wing was a mess. He was lucky again, having done every Berlin trip so far.
Catfoss was a rain-soaked, bleak training base, ill prepared for such a sudden influx of aircrew. We were de-briefed, but there was no food or refreshment for us at the cookhouse, so we retired to unheated barrack huts for a few hours of rest. Some of the lads went and tried the cookhouse again at daybreak. They still had no luck, but brought back the welcome news that the staff would have a special meal for us at noon. When the hour arrived, we were all waiting at the cookhouse door. As long as I live, or wherever or whatever I may eat, there will never be another meal more enjoyed or as appreciated. I truthfully cannot remember what it consisted of, certainly nothing out of the ordinary, but it was hot, and good, and ample.
Our aircraft were refueled and we prepared for a return to base. Nature interfered and the fog settled in. We hung around all day, and that evening we took the bus into Hull to check out the pubs. We surely must have looked a disreputable lot, unshaven in our sloppy blue battledress, flying boots and most of us with no hats. The following day was a repeat for fog conditions. Predictions were for the overcast to lift in the evening, and we were at our aircraft, ready to start up for take-off. The fog had lifted, but the lead aircraft on the perimeter-track had developed dead batteries, so another delay while replacements were brought out. Night flying with students in the Beaufighters was in progress, and as Henry and I stood outside QR-V, we observed an aircraft in the circuit with an engine afire. It was a Beaufighter and he required an immediate landing. The person in the control van at the runway's end tried to direct him to a grass landing beside the runway, but he seemed confused, banked quite sharply to port and now was coming directly toward our line of aircraft, with sparks and flame shooting from his starboard engine.
Henry and I were almost transfixed to our spots as we yelled, "He's going to hit!" and we watched, helpless, as the Beaufighter roared straight into George Harvey's aircraft QR-S, about fifty feet behind us. With a sickening, tearing crash the Beaufighter's undercarriage wheels straddled the mid-upper turret, as propeller blades chopped through the fuselage on the Lancaster. The bomber, her back broken, pointed her nose skyward like some great wounded beast, as sparks and shapeless pieces of junk flew in all directions. The fighter struck the ground seconds later and started a slide across the grass, with seemingly endless bumps and crashes. The force of the impact had blown out the fire.
We ran to George's wrecked ship, and by some miracle the crewmembers had all been in the front end and were unhurt. After a headcount we all started to run across the dark field on the trail of the fighter. We found the wheels and propeller near the point of impact, and both engines smoking on the grass at different spots farther along. We arrived at the wreck just moments after the fire trucks and ambulance. The pilot, whom we were sure we'd find dead, had already climbed out of the cockpit, unhurt and unaided, walked to the ambulance, got in and lit a cigarette as the fire trucks laid foam on petrol pouring from the ruptured fuel tanks.
This episode cancelled our flying for another night, and we quietly rode back to the flights reflecting on what had happened. The next morning the fog had lifted again, enabling the squadron to return to Skellingthorpe before noon. We took along George's crew as passengers, and Don Thomas, the Canadian mid-upper gunner brought one of the control handles of his wrecked turret on the QR-S. This was our last flight with 61 Squadron, and our fifteenth trip.
On the permanent pre-war base of Waddington, near Lincoln, a new Australian squadron, 463, was being formed from "C" Flight of 467 Squadron, RAAF.
Read more in "The airborne years", a complete 131 page book covering J A Campbell's training in Canada and the UK. His memoirs span 14 OTU at RAF Cottesmore, RAF Saltby, 1654 HCU at RAF Wigsley, training at RAF Fulbeck and then operations on 61 Sqn RAF from RAF Syerston and 463 Sqn RAAF from RAF Waddington. Download or read the entire book free of charge.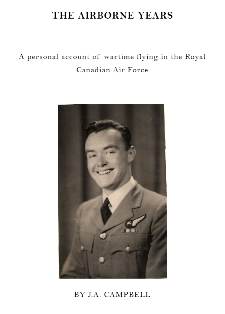 Buy the local map:

1:25 000 (detail)

1:50 000 (area)
Aviation Heritage Lincolnshire
(Tourism)
powered by blueconsultancy